The Slovene Ethnographic Museum is a museum "about people, for people", a museum of cultural identities, a link between the past and the present, between traditional and modern culture, between our own and other cultures, between the natural environment and civilisation. It is a museum of dialogue, open, active and hospitable, dedicated to serving the public. It presents and reports on traditional culture as well as mass and pop culture in Slovenia and the diaspora, on non-European cultures, and on the material and intangible cultural heritage of both everyday and festive life.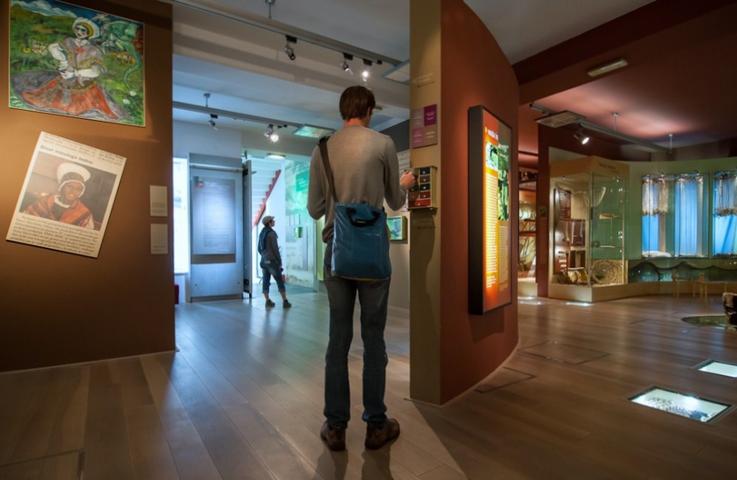 Between Nature and Culture
First permanent exhibition
The treasure house of Slovene and non-European heritage of the everyday and the festive
In the permanent exhibition the museum curators and researchers enable their stories to be told - the rich array of purposes for which our predecessors made objects, used them, and through time and space distinguised and changed their forms, driven by the universal striving after survival in the natural environment into which we were born.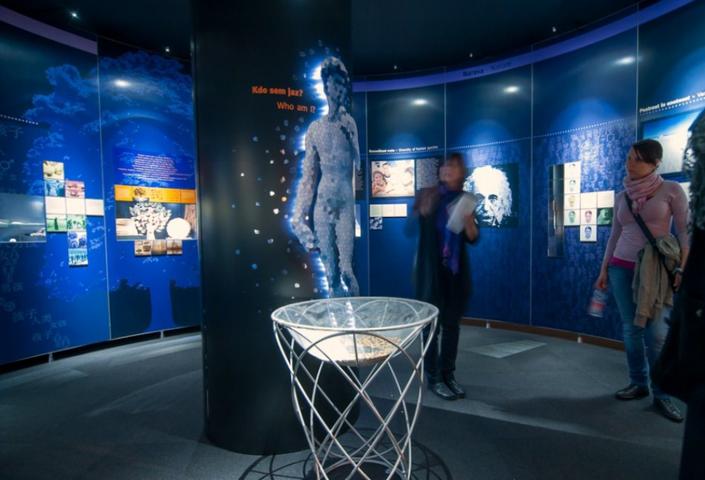 I, We and Others: Images of my World
Second permanent exhibition
I, We and Others: Images of my World is an exhibition about man and his place in the world; about personal, communal and universal heritage - what it is, how it comes about and what it means. It thus complements the first exhibition.
The exhibition offers a breathing space among everyday obligations and a chance to contemplate yourself and others, to reflect on the world and the life that we lead. We hope to bring about a sense of wonder and joy at the lively multitude of images of many different worlds. We do not offer simple solutions: this is a space in which to ask questions and seek your own answers, to exchange ideas and experiences.
Doors. Spatial and Symbolic Passageways of life.
Exhibition on the occasion of the 90th anniversary of the Slovene Ethnographic Museum, 11th October 2013 - December 2016
The exhibition stretches from the oldest known doors, keys and locks preserved in museum and private collections to the most up-to-date examples. Doors guide visitors to different parts of Slovenia to families of different professions and social origins. They tell numerous stories about those who made them, those who lived behind them, about the rise and fall of families, the development of homes, about what we understand by privacy, openness and closedness, and so on − festive stories and everyday stories.
Detailed information about the exhibition Doors
Group visits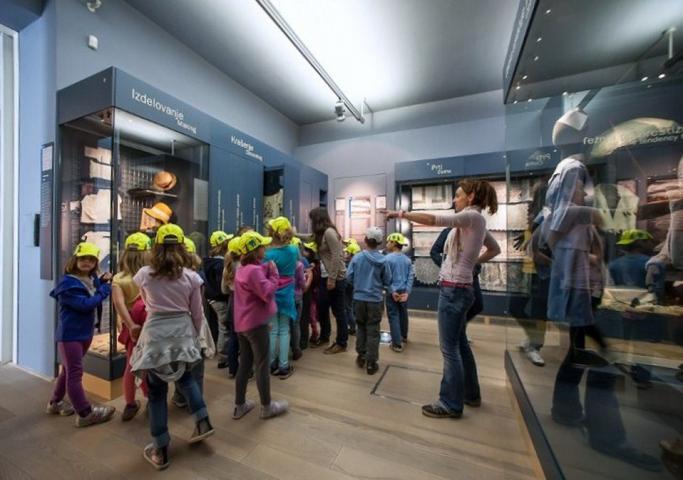 The museum organises educational tours, expert lead tours and public tours in different languages.
Information and contact person:
Sonja Kogej – Rus, Head of Educational service
T: +386 1 3008 750, Mobile phone: +386 31 728 955
E: sonja.kogej-rus@etno-muzej.si
Museum Coffee Shop
After the visit museum everyone can relax and enjoy the famous home-made cakes and refreshing drinks in the museum Coffe Shop SEM.
The museum's Coffee Shop is the venue for special musical and other cultural events accompanying individual exhibitions.
Workshops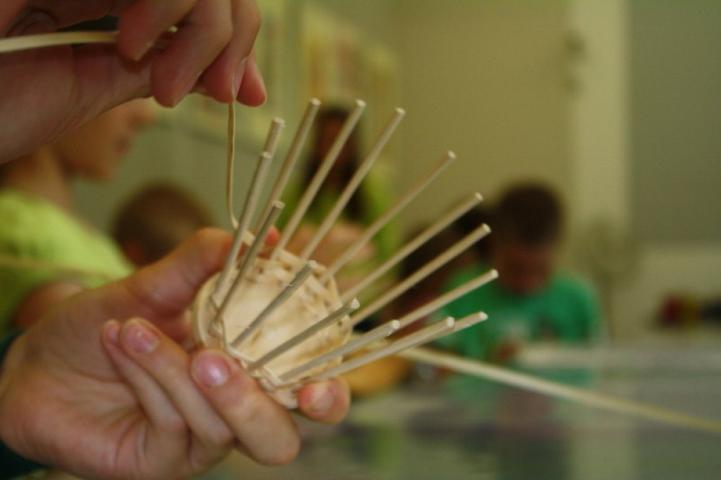 For Children
Educational activities are one of the main objectives of the Museum Educational Department. Besides organised tours for children, educational events such as video projections and lectures, Department monthly prepares museum workshops for children.
Information and Contact:
Sonja Kogej Rus, Head of Educational Department
T. + 386 1 3008 745, +386 31 278 955
E. sonja.kogej-rus@etno-muzej.si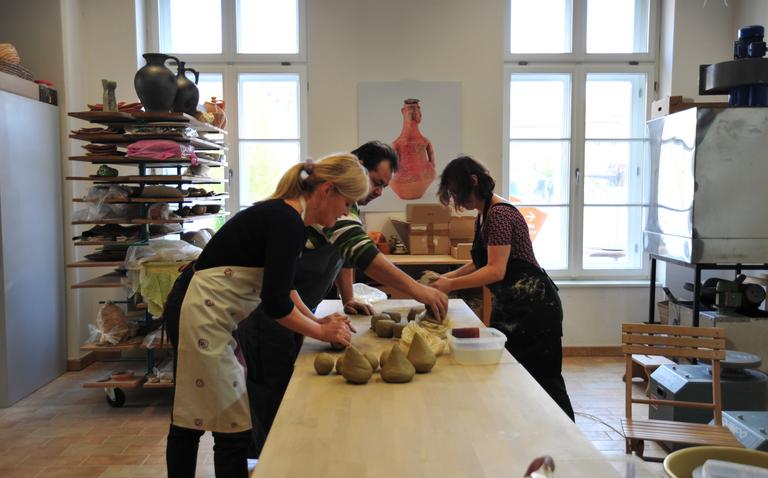 Pottery workshops
Demonstration & Workshops
Pottery workshops are run by the pottery maker Eva Peterson Lenassi where they teach traditional and modern techniques of pottery-making.
Open: Monday – Sunday 10.00 – 14.00
Information and contacts:
Pottery atelier SEM
T: +386 1 3008 741
Eva Peterson Lenassi
T: +386 40 384 345
E: lenassieva@yahoo.com
Weaving
Demonstration & Workshops
Weaving workshops are run by Mojca Tomšič and Barbara Lapuh, weavers and ing. textile tehnology. Both introduce visitors to manual weaving, typical domestic craft in Slovenia in the past.
Open: Tuesday - Sunday 10.00 – 13.00
Information and contacts:
Mojca Tomšič
T: +386 41 885 025
E: mojca.tomsic@yahoo.com
Barbara Lapuh
T: +386 40 780 782
Etnolog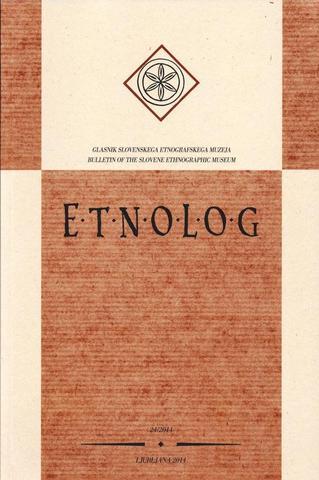 Etnolog is a scientific periodical with a long tradition and is published by the Slovene Ethnographic Museum. It was started in 1926. From its beginnings, the periodical went through three different periods. In the first period, from 1926 to 1944, it was published as Etnolog; in the following period, from 1948 to 1990, as Slovenski etnograf; and from 1991 to the present again as Etnolog, bulletin of the Slovene Ethnographic Museum. As a rule, one issue is published annually.
Bilingual (Slovene and English) volume of Etnolog publised for International Symposium (5th - 8th November 1998) Ethnological and Anthropological Approaches to the Study of Death is available here.