For Children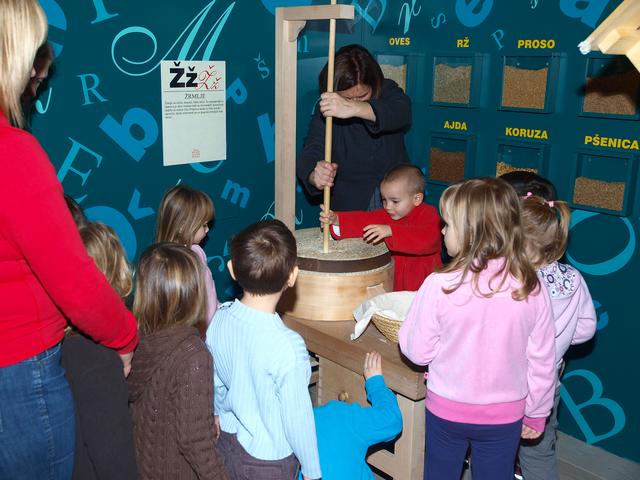 Educational activities are one of the main objectives of the Museum Educational Department. Besides organised tours for children, educational events such as video projections and lectures, Department monthly prepares museum workshops for children.
Information and Contact:
Sonja Kogej Rus, Head of Educational Department
T. + 386 1 3008 745, +386 31 278 955
E. sonja.kogej-rus@etno-muzej.si
For Adults
Pottery workshops
Demonstration & Workshops
Pottery Atelier in Slovene Ethnographic Museum is a lively museum activity of the pottery maker Eva Lenassi and a group of authors and craftsmen. This atelier is a place for making pottery products, clayware and presenting the traditional pottery-making and it has also an educational and experimental role.
Photo: Miran Kambič
Open:
Monday – Sunday 10.00 – 14.00

Information and contacts:
Pottery atelier SEM
T: +386 1 3008 741
Eva Peterson Lenassi
T: +386 40 384 345
E: lenassieva@yahoo.com
Weaving
Demonstration & Workshops
In the Weawing Atelier visitors will get acquainted with the handcraft weawing procedure. Weawing was a characteristic homecraft in the past and loom was found in almost every home. It evolved in 18th century but due to increased manufacture of industrial fabrics the demand for the screen has fallen. In Slovene Ethnographic Museum there are two knitters: Mojca Tomšič and Barbara Lapuh.
Open:
Tuesday - Sunday 10.00 – 13.00

Information and contacts:
Mojca Tomšič
T: +386 41 885 025
E: mojca.tomsic@yahoo.com

Barbara Lapuh
T: +386 40 780 782